The question "with a reverse mortgage who retains the title to the home" is common among consumers and we will try to clarify it.
A reverse mortgage allows the homeowner to keep their house as long as they pay their property taxes, maintain it, and keep it insured. You will be responsible for the valuation fees, legal fees, and other costs associated with the sale of the land. The borrower retains ownership of the land, including any unused equity, and is never required to leave.
Do I keep title of my home with a reverse mortgage?
Yes. As with a traditional mortgage where title remains in your name, the same occurs with a reverse mortgage. The biggest difference with a reverse mortgage opposed to a traditional mortgage is the fact that you do not make the regular payment on the mortgage loan.
The myth that is often circulating around who has title of the property with a reverse mortgage is one of the top five myths about Reverse Mortgages. In order to debunk this myth, we need to address the value in a reverse mortgage for the homeowner.
Reverse Mortgages were launched in Canada in 1986 to provide Canadians in retirement an option to remain in their home and access equity to increase their cash flow and maintain their standard of living, to name a few reasons. one of those reasons is not for the lender to take the title of the homeowners' property, that always remains in the homeowners' name. So we can debunk the myth that the lender takes title of your property this is just not true.
There are some publications indicating a reverse mortgage is not a good mortgage product, what many people do not realize is a Reverse Mortgage is a niche product, it is not a one size fits all or a cookie cutter typical mortgage product. A Reverse Mortgage offer seniors a number of different options to access the equity in their home for their particular needs.
Whether you are refinancing your current property into a Reverse Mortgage or purchasing a new property with a reverse mortgage, the title is always in the homeowners' name. Another myth we should probably address here is a reverse mortgage is a scam, this is not true either, Reverse Mortgages are provided by federally regulated Schedule A banks.
There are two lenders in Canada who offers reverse mortgages. HomEquity Bank also known as CHIP Reverse Mortgages was the first lender in Canada to offer Reverse Mortgages to seniors. They have 4 products under the Reverse Mortgage umbrella providing different solutions to seniors' financing needs.
The most common mortgages are the traditional Reverse Mortgage providing clients with a lump sum payment from the equity of their home or they can access equity from their home with the Income Advantage Mortgage product topping up their income monthly which is a great way for seniors looking to increase their monthly cash flow.
A Reverse Mortgage can also be used for short term financing, for example, a Reverse Mortgage can be used to bridge finance the sale of one property to the purchase of another property, this is called an Open mortgage product, and would typically be paid out when your sale proceeds come through. It is important to keep in mind with any of these different reverse mortgage products the title always remains in the homeowners' name.
Equitable bank is the 2nd lender that offers Reverse Mortgages to seniors. Their lending guidelines are slightly modified compared to HomEquity Bank, but they do offer the same bells and whistles that HomEquity Bank offers. With both lenders title remains in the homeowners' name.
If you think a Reverse Mortgage might be a good fit for you and you are over the age of 55 and have equity in your property and looking for solutions to either increase your cash flow with tax free money, provide a family member with an early inheritance to possibly purchase a property for themselves, or maybe renovate your home to suit your needs as you age I strongly encourage you to continue gathering more information to educate yourself on the benefits of a Reverse Mortgage. The flexibility is here for you.
---
---
---
---
---
---
I am a Certified Reverse Mortgage Specialist and welcome the opportunity to work with you in finding the best mortgage financing solution for you. Please contact me below and I will provide you with Expert Advice to Guide You Home.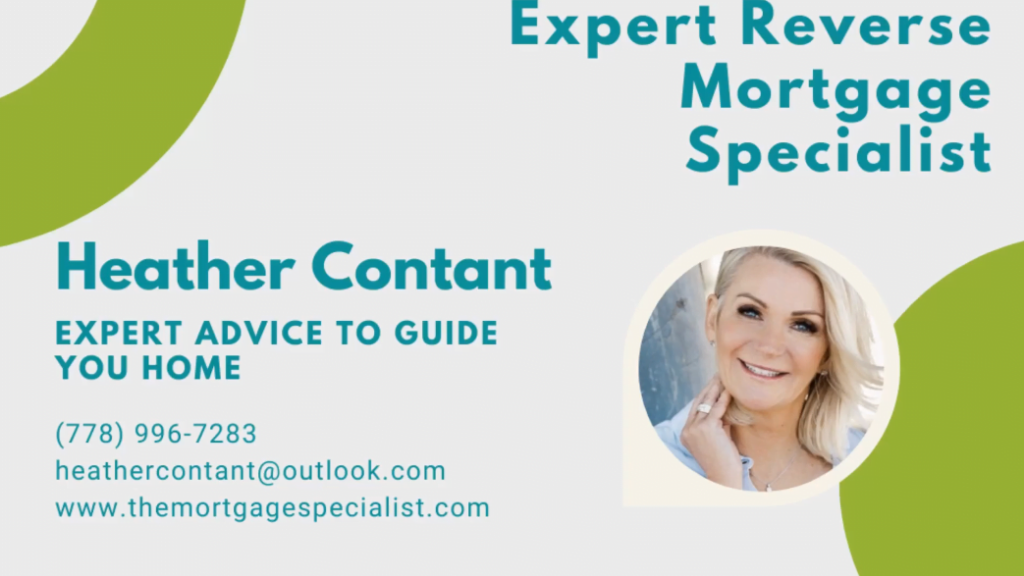 ---